What is it?
Sportivo is a premium offering from Fiat Professional, featuring a high level of standard content, unique exterior design elements such as metallic black paint and red "Sportivo" stripes on either side of the vehicle.
This is designed to create a sporty, modern and exclusive package as well as adding comfort and convenience to the driving experience. This is probably more suited to the long distance runner than the van about town.
Sportivo models, there are versions for most of the Fiat Professional van range, come with standard air conditioning, cruise control, sat nav with Bluetooth handsfree connectivity and a leather steering wheel with audio controls.
This particularly branding is aimed squarely at the small business or one man van operator.
With its upmarket spec and attractive looks, the Sportivo range is available on Fiorino, Doblò, Talento and Ducato vans.
It's based on the Tecnico trim: air conditioning, touchscreen with satnav, reverse parking sensors and cruise control are also standard.
Sportivo adds: alloy wheels, metallic paint, Sportivo side-stripes, painted bumpers, and a variety of other safety and comfort features.
Fiat said the Ducato Sportivo is the right specification for the growing number of SMEs and single van van drivers who want something different but upmarket – a van operator proud of their van and wanting it to reflect their business professionally.
Load space is an impressive 17 m3 maximum, with a payload up to 2,200 kg. And with a choice of five MultiJet and EcoJet engines there's a power unit for every mission.
All Euro 6, the engines offer a wide of power outputs, with performance, fuel efficiency, and environmental friendliness all key plus points.
There's even a refrigerated compartment to keep food and drinks cold, a folding table in the middle seat, under-seat storage compartments, and a roof light that can be removed and used as a torch.
Power is the 130hp 2.3 litre Multijet II turbo diesel engine through a six speed manual gearbox. As before with all Ducatos, the big panel van remains front-wheel drive. Our review van was fitted with an 800kg load on board.
What's hot?
That engine. It pulls smoothly and sweetly from low down. Use the 320Nm torque and change early and the van moves strongly away…
…it's long-legged too. If you have to move loads long distances you'll love the quietness in the cabin as the engine softly hums along. It's all very relaxing, meaning you'll get to your delivery point or next customer feeling fresh.
The interior has many benefits in terms of equipment and storage.
Developed from the US (thanks to Fiat's tie up with Chrysler) the drink holders feature expandable holders for multisized use – from a 750ml bottle of water down to a primo sized cafe latte.
There's a further cupholder in the dash for passengers.
There's also a new tablet holder that can be adjusted to fit both a smart phone or a tablet. For the UK, Fiat Professional is making adjustments to ensure it can also take a tablet that's fitted with a protective cover.
The steering wheel is a soft-touch leather affair giving a nicely tactile feel – base models make do with standard plastic if you're worried about dirty hands at the steering wheel.
Great level of standard equipment.
5 inch colour touch screen Uconnect infotainment system which includes an integrated TomTom sat-nav system, digital DAB digital radio and a useful reversing camera with parking sensors.
There's also ROM (Roll-Over Mitigation) and RMI (Roll Movement Intervention) with integrated LAC (Load Adaptive Control). The latter is really important as it adapts to the van's load – and any shifts in that load – to provide better roll control.
You'll notice it. The Ducato handles well round tight corners and always feels entirely stable.
Talking of handling, the turning circle is 38.1ft – that's good and tight for urban deliveries.
The load bay is a good squared off shape with an impressive 10cu m of loading area and long enough to accommodate 3m piping. Plenty of lashing points to ensure heavy loads remain where they should.
The rear doors can be opened 180 degrees by pushing a button next to the hinges so access to the bay is easy. There's also a side opening door, too.
What's not
The suspension features revised front McPherson struts with improved top mounts and leaf springs at the rear. While it copes with bumps and ruts well, noise jars through into the cabin in a way that you wouldn't notice in a Transit Custom.
The seats provide little lateral support and we found they pushed us downwards and forwards. However, that was not a universal view – so try before you buy.
Business Vans verdict
There's no question the Fiat Ducato Sportivo has real road presence with its distinctive face. Side stripes, motifs and LED running lights.
Of the three vans made at the Sevel factory off the same platform – Fiat Ducato, Citroen Relay and Peugeot Boxer – we think the frontal treatment of the Ducato is the most successful, better even than the Boxer.
It's also feels nicer to drive than the Boxer while the Multijet II engine has bags of torque and is quiet in operation.
Not only has the engine been made more efficient, but reduction in the weight of several components has helped improve economy. We average around 36mpg although the official consumption figure is 44.8mpg.
Easy to use load space as we discovered shifting some furniture between house and storage facility – this included large dining room table, six chairs, big (and heavy) wardrobe, fridge and assorted boxes.
No problem loading and unloading thanks to those wide rear and side doors and there was plenty of room for more.
And what we really love on a van this size? The reversing camera!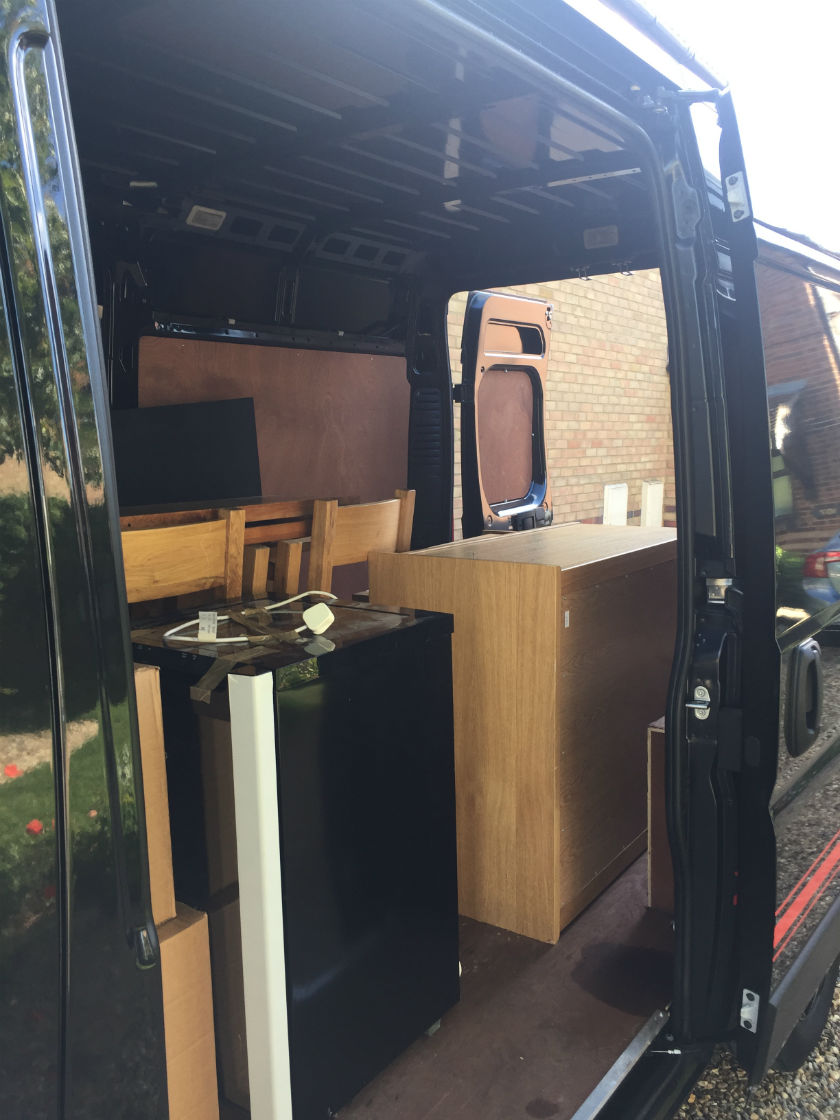 What you need to know
| | |
| --- | --- |
| On the road price ex VAT (as tested): | £24,300 |
| Load length: | 3120mm |
| Load width (max): | 1870mm |
| Load height (max): | 1622mm |
| Load capacity: | 10cm m |
| Payload: | 1497kg |
| GVW: | 3300kg |
| Towing capacity braked/unbraked: | 2500kg/750kg |
| Engine: | 2.3-litre 4-cyl turbodiesel |
| Power/Torque: | 130hp/320Nm |
| Economy (combined): | 44.8mpg |
| CO2 emissions: | 177g/km |